Short Annapurna Base Camp Trekking
Short Annapurna Base Camp Trekking Facts
| | |
| --- | --- |
| Package: | Short Annapurna Base Camp Trekking |
| Duration | 11 Days |
| Price | USD 752 per person |
| Transportation | Flight/Private vehicle or tourist bus |
| Group Size | +5 |
| Difficulty | Moderate |
| Max Elevation | Annapurna Base Camp (4130m) |
| Accommodation | Hotels/Mountain Lodges |
| Meal | Full board in trek and breakfast in Kathmandu |
| Trip Start / Ends | Kathmandu / Kathmandu |
| Contact Detail (Viber/Whatsapp) | +9779843724104 |
| Trip Note: | Price offered is full inclusive and it is quoted in USD. Trip will only starts when you will arrive to Kathmandu International Airport. The given itinerary is just a standard itinerary and could be customized on request. |
Trip Overview
A popular journey through the largest rhododendron forests to the foothill of the majestic Annapurna, unfolding before us an extensive range of mountains complete with diverse mid-hill Nepali cultural experience.
The journey to the world classic and legendary Annapurna region, Annapurna Base Camp at the height of (4,130 m) Trekking Route can be the best option to walk over. Trekking to Annapurna region is a lifetime experience where you can witness the natural beauties, typical Nepali villages on the way, and peculiar landscapes of Nepal. Walking through beautiful Rhododendron, bamboo and alpine forests, and tranquil waterfalls to witness the crown of Nepal, we ensure you have one of the best moments of your life with us in the Annapurna region.
Starting with the bus ride from Kathmandu and walking from Pokhara, trekking goes through many typical ethnic villages like Landruk, Tolka, Pothana Dhampus, Gandruk and most importantly Poonhill- the best viewpoint all over Nepal. Poonhill is not lesser than paradise from where you can have the finest view of mountain peaks of Mount Dhaulagiri (8,167 m), the Annapurna Range (8,091 m) and Mount Machhapuchhre – 6,993 m (Fishtail Mountain) to the northern part and the Butterfly Peaks in the far western part with the virgin view of the sun rising making a way out of this almighty peaks. Similarly moving onwards to ABC we can see hot springs where you can take rest and have a bath if you want and even some glaciers. Enjoying the beauty on the way, we will have the closer view of peaks standing still and welcoming you on the Annapurna range which includes the almighty cones of Annapurna Himal, including Hiunchuli, Annapurna South, Fang, Annapurna, Ganagapurna, Annapurna 3 and Machhapuchhare after we reach ABC. Categorized as a medium level route, you do not need advanced physical fitness to walk on this region.
The Annapurna Base Camp trek packages the finest of the most popular trekking region of Nepal – the Annapurna, spread over manageable days of the trek. The difficulty level of the trail is moderate with challenges in some steep uphill sections. The maximum altitude ascended during the trek is 4,130m which is not very high when compared to other trekking routes. It comes as a respite for trekkers who are wary of high altitude sickness. The view and the cultural experience, however, is unparalleled and delightfully surpasses the expectations of trekkers. From Annapurna Base Camp, you stand witness to mountains like Hiunchuli (6,441m), Annapurna (8,091m), Gangapurna (7,455m), Machhapuchhare (6,993m) and others.
The trek starts from Nayapul which is a two-hour drive from Pokhara. We trek through beautiful Gurung villages, traditional houses, terraced farms, lush green forests and wildlife on a well-marked trail leading to the Machhapuchhre Base camp and then the Annapurna base camp. Beautiful stops like Ghandruk and Chhomrong add allure to life on the trek which offers a reasonable level of modern amenities. The trek concludes on a soothing note in the natural hot springs of Jhinu. All in all, it is a moderately long trek that offers the serenity, cultural experience, floral and faunal diversity, and amazing views, to say the least. If you feel, however, that the serenity and diversity of the Annapurna region warrants for deeper exploration, be sure to check out other packages in the alluring Annapurna.
A standpoint in the middle of a natural amphitheatre of mountains at the Annapurna base camp
Watch the golden summits of the Annapurna massif radiated by the rising sun
Reaching the base camp of the distinctive Mt. Machhapuchchhre (Fishtail)
Relax your sore muscle at a natural hot water spring in Jhinu
Short Annapurna Base Camp Trekking Itinerary
Day 01: Arrival in Kathmandu Airport 1400m / 4593ft
Welcome to the land of the Himalayas! A member of our team meets you at the airport and escorts you to your hotel. We leave you to relax and freshen up at your hotel. In the evening, we have a debriefing meeting regarding the trek at your hotel and answer any queries you may have. Welcome dinner at one of Kathmandu's finest cultural restaurant follows thereafter. You are then dropped off at your hotel. Overnight in Kathmandu.

Included: Airport pick-up, Welcome Dinner, Accommodation with breakfast
Day 02: Kathmandu to Pokhara (7-8 hours by bus) 827m / 2713ft
We set off after breakfast at the hotel. We are to drive 200 km (124 miles) west from Kathmandu to Pokhara in a tourist bus along the Prithvi Highway, one of the oldest in the country. The drive is rather enjoyable with refreshment stops on the way. The drive cuts through hills and sub-urban settlements alongside rivers to reach Pokhara, a city blessed by nature. The city is also the starting and/or ending point for most treks in the Annapurna Region. On our arrival at Pokhara, we drive to our hotel, check-in and relax for a while. In the evening, we head out to explore the sights and sounds of Pokhara. The area along the Fewa Lake is a popular tourist attraction with enjoyable nightlife and market selling handicraft and trekking gears. Dinner and overnight at Pokhara hotel.

Included: Tourist bus to Pokhara, Accommodation in a tourist standard hotel with breakfast
Day 03: Drive to Nayapul (2 hours), trek to Ghandruk (5 to 6 hours) 1070m / 3510ft (Nayapul) 2000m / 6562ft (Ghandruk)
We drive to Nayapul after breakfast, which takes almost two hours. After getting off near a bridge festooned with colorful prayer flags, at Nayapul, the Annapurna Base Camp Trek instantly kicks off along the trail above the Modi River. After walking for 30 minutes, we get to Birethanti and have our permits checked at an ACAP check-post. We start the 800-plus meters climb with a relatively easy walk up to Syauli Bazar, from where we start our climb while intersecting the serpentine road multiple times up to Kimche. We continue our ascent to Chane and Kyumi on stone-paved stairs, passing along terraced farms, small villages and stream to arrive at Ghandruk. Ghandruk is a beautiful village mostly inhabited by the Gurung community. You may be able to enjoy a traditional song and dance and a visit to the local Gurung museum acquaints you to the fascinating culture. The village is a great place to witness Mt. Annapurna South (7219m), Mt. Hiunchuli (6441m) and Mt. Macchapuchhare (6993m). We have dinner and rest after a tiring climb on the first day of the trek.

Included: Road transport, Lodge accommodation with a full board of meals (breakfast, lunch, and dinner)
Day 04: Trek to Chhomrong (5 to 6 hours) 2170m / 7119ft
We resume after breakfast to climb up for an hour to get to the highest point of Ghandruk – Ghandrukkot (Komrong Danda). We then chase a steep descending trail that drops to the Kimrong River. On the other side of the river, a steep uphill awaits us passing alongside the Kimrong village. The climb is through a forested trail that takes about two hours before we arrive at a point where the trail from Tadapani converges. We head north along an easy trail to reach Chhomrong, the mandatory entryway to the Annapurna Base Camp. Magnificent views of Annapurna South and Machhapuchhre (Fishtail) tower across the valley. We explore the beautiful village after some rest. Dinner and overnight at Chhomrong.

Included: Lodge accommodation with the full board of meals (breakfast, lunch, and dinner)
Day 05: Trek to Dovan (5 to 6 hours) 2600m / 8530ft
The initial section of today's trek starts with a careful descent along with stone-paved steps to Chhomrong River. We cross the suspension bridge to climb uphill through the lush forest for two hours to get to Sinuwa. The trail beyond Sinuwa cuts through dense bamboo forests for a maximum of ninety minutes before we arrive at Kuldhighar. Almost 30 minutes of downhill walk and we arrive at Bamboo, named because of the abundance of bamboo harvested by locals. Dovan is almost an hour's uphill walk along a forested trail. Rest and exploration followed by dinner.

Included: Lodge accommodation with a full board of meals (breakfast, lunch, and dinner)
Day 06: Trek to MBC (5 to 6 hours) 3700m / 12139ft
After breakfast, we trek for two and a half hours along the bank of the Modi River through forests and small streams to reach Himalaya. The next section is an uphill climb for forty minutes to reach Hinku Cave, an opening underneath a huge rock lurking above. Deurali is almost half an hour, where we have lunch. Post lunch, the trail ascends into more alpine terrain. Another two hours of steady climbing while dodging some avalanche-prone sections and we arrive at the Machhapuchhre Base Camp (3700m). At this altitude, mountain sickness can become an issue, so we spend the night here to get well acclimatized before climbing higher to the Annapurna base camp, plus the view which includes the vista of mountains: Hiunchuli, Annapurna South, Annapurna I, Gangapurna and Machhapuchchhre is scintillating! As Machhapuchchhre is not open to climbing expeditions, the base camp is only a name given to the stopover place. Dinner and overnight at MBC.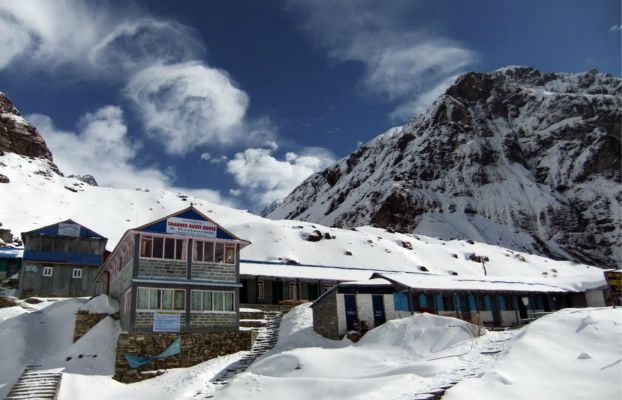 Included: Lodge accommodation with a full board of meals (breakfast, lunch, and dinner)
Day 07: Trek to ABC and back to Dovan (6 to 7 hours) 4130m / 13550ft (ABC) 2600m / 8530ft (Dovan)
We set off early for the best part of the trek after breakfast. We make a gradual climb along the glacial moraine which lasts almost two hours. A board and some memorials with prayer flag are a bit further mark the Annapurna base camp. There also are some lodges nearby. The morning view is the best with the sunrise offering a golden touch to the majestic Annapurna I (8091m/26544ft). You find yourself in an amphitheater of mountains like. After spending some time marveling at the beauty, we start our return trek back to Dovan. The trek back should take about four and a half hours. Overnight at Dovan.

Included: Lodge accommodation with a full board of meals (breakfast, lunch, and dinner)
Day 08: Trek to Jhinu Danda (6 to 7 hours) 1780m / 5840ft
After breakfast, we start our descent to Jhinu Danda where a natural hot spring awaits us. The first section of the trail drops down to Bamboo and climbs up to Khuldighar before dropping again to Chhomrong Khola. The Chhomrong village is a short climb from here and finally a final downward walk to Jhinu Danda, making a perfect trek with ups and downs along the beautiful hills. The Jhinu hot spring is a 25-minute walk down along the bank of the Modi River. A series of three pools have been maintained just by the roaring Modi River. Relax and rejuvenate. Overnight at Jhinu Danda.

Included: Lodge accommodation with a full board of meals (breakfast, lunch, and dinner)
Day 09: Trek to Nayapul (4 to 5 hours), drive to Pohara (2 hours) 1070m / 3510ft (Nayapul) 827m / 2713ft (Pokhara)
After breakfast, we climb down to cross Kimrong Khola and continue to hike the ups and downs to reach New Bridge, an hour later. The Modi River Valley with steep cliff offers an enjoyable to view. We walk almost three hours to reach Syauli Bazar via Kyumi. From Syauli Bazar, it's an easy two-hour walk to Nayapul. Our Annapurna Base Camp Trek ends here at Nayapul. From Nayapul, we drive off to our hotel in Pokhara. The following evening can be spent exploring more of Pokhara. We spent the night in Pokhara.

Included: Lunch, Hotel in Pokhara with Breakfast
Day 10: Drive to Kathmandu (7 hours by bus) 1400m / 4593ft
We make the return road trip on a tourist bus to Kathmandu along the Prithvi Highway. On arrival at Kathmandu, you are transferred to your hotel. In the evening, you are invited to a farewell dinner at a restaurant in Thamel.

Included: Farewell Dinner, Accommodation in Kathmandu hotel with breakfast
Day 11: Departure day from Kathmandu
It is your last day in Kathmandu. After breakfast, you may head out on an exploration trip to the city. If you haven't had time to buy souvenirs, you may do so now. You are then dropped off at the airport for your flight. We wish you a safe and pleasant flight.

Included: Airport drop-off
Trip Includes/Exclude
Annapurna Base Camp Trekking FAQ's
How difficult is the trekking to Annapurna Base Camp?
No ropes needed and no ice picks needed. There is no vertical climbing involved. The trial is rough, Most of the trek involves long paths that go up and then down. People with weak ankles should take caution. Depending on the time of year you go there can also be snow and ice on the trails. Use caution or seek the expertise of our guide.
An average level of fitness is required.
Can my children go on the ABC trek?
Yes, your Children can do it but make sure they have enough walking experience.
What if I am a solo traveler? Is there a supplemental for singles?
No problem. Many of our customers are traveling solo. It may also be an option to join a small group or another solo traveler, let us know if this interest you. Yes, there is a supplemental cost if you are traveling alone, please contact us to find out more.
When should I go to Annapurna Base Camp​?
October to November is the start of the dry season and is the most popular time to visit Nepal as the monsoon has recently finished, leaving a green and lush countryside, fresh and clean air, and clear views of the Himalayan. From December to February the temperature is very cold but visibility is still good. With fewer tourists on the trails, this can be the preferred time to visit. However, the cold can make high altitude treks more strenuous than normal. Some treks will be closed due to snow. March to May is the second most popular time to visit. The weather is warmer and the visibility is still good, though not as crystal clear as between October to November. Nepal's flowers, however, come alive at this time of year. June to September is the monsoon season. While you can still trek during this time, the options are limited due to the rains and heat.
Are there any ATM's on the Trekking route?
No. Only at Pokhara before/after Trek.
Do I need to purchase my own travel insurance for ABCTrek?
Yes. Most trips run smoothly, but once in awhile something unexpected can happen, that's why we highly recommend and to join one of our trips you must have travel insurance. Please see our travel insurance section for more information.
Will I get altitude sickness on the Trek?
Annapurna Base Camp​Trek doesn't go higher than 4100m. and It is not possibly affected by the altitude very much but some people might fell altitude symptoms It is usually above 3000 meters when people start to feel symptoms. Please see our page on altitude sickness for detailed information.
Will I have access to the internet?
Yes, some of the places you will be able to use the Internet if there is not any technical problem. eg; Ghorepani and Ghandruk.
Can I charge my camera batteries on the trek?
Yes, you can charge batteries but you'll be charged by the hour and you'll have to bring your own charger.
Will my mobile phone work on this Trek?
Cell phones work at most of the places on ABC Trek, depending on your mobile provider. There are also phone services almost everywhere we go if you need to reach home.
What is the accommodation like?
We can tailor the accommodation to meet your requests. While in Kathmandu and Pokhara we generally stay in very nice 3-4 star hotels. During the treks, we will be staying in local guesthouses along the trail. The guesthouses vary, but overall is clean, charming and meet all of your needs.
What happens if I get sick or get hurt while trekking?
Basically our guide will sort out the things what to do. If it is not too bad you may go down by walking, however in the event of an emergency there usually is access to a telephone line or satellite phone for an evacuation via helicopter. This is another reason to be sure you are covered with adequate travel insurance!
Who are the guides?
Hiking Annapurna hires guiding professionals with a love and passion for outdoor travel and adventure. Our guides have been with us for many years and know the trails well. They all speak English very well and know how to take good care of the clients. Please see our About Us page for more information on our guides.
Will I have to carry all of my own stuff on the Trek?
No, unless you request to. Our porters will carry up to 12kgs of weight for each trekker. All you need to carry are your essential items for the day. The porter fee is included in the price of your trip. We plan for 1 porter for 2 trekkers in accordance to the guidelines set out by the International Porter Protection Group. If you would like more weight to be carried, please let us know. In general, 12kg is more than sufficient.
Are the water and food safe on the Trek?
The tap and mountain water in Nepal are generally not safe to drink for tourists. Bottled water, boiling water or using water purification tablets are your best options. Tea and coffee are okay to drink. Yes, the food is safe in Nepal. And delicious! For more information please contact us.
Price Starting From
USD 752pp
We do small group or private trip as your request.
For quick information contact us at WhatsApp/Viber +977-9843724104

This trip can get redesigned and redeveloped as per your taste, for more information please e-mail us at hikingannapurna@gmail.com