Upper Mustang Helicopter Tour
Upper Mustang Helicopter Tour Facts
| | |
| --- | --- |
| Package: | Upper Mustang Helicopter Tour |
| Duration | 3 hours |
| Price | USD 1500 per person |
| Transportation | Helicopter |
| Group Size | 1+ |
| Difficulty | Easy |
| Max Elevation | 4380 metre |
| Meal | Pay extra |
| Trip Start / Ends | Kathmandu / Kathmandu |
| Contact Detail (Viber/Whatsapp) | +9779843724104 |
| Trip Note: | Price offered is full inclusive and it is quoted in USD. Trip will only starts when you will arrive to Kathmandu International Airport. The given itinerary is just a standard itinerary and could be customized on request. |
Trip Overview
Until 1992, the Upper Mustang was a limited demilitarized area, making it one of the world's most preserved regions, with a majority of the population still speaking traditional Tibetan. The relative isolation of the region from the outside world has preserved the Tibetan culture.
If you are interested in exploring Tibetan Buddhist culture in the hidden Upper Mustang valley, take the Upper Mustang Heli Tour and Trek, which provides a fast platform for you, and you don't have to worry about your time limit. This is the quickest route to Upper Mustang, a sacred valley with cultural treasures.
Exploring ancient monasteries, chhortens, traditional houses, and local people's cultural lifestyles can give you a new insight into the Upper Mustang scenario with a day trip by helicopter. It's a wonderful alternative to the Upper Mustang Trek and we call it a Heli Trek as you walk around the Lo Manthang.
Upper Mustang Helicopter Tour has been open to foreigners since 1992 A.D., covering several popular hiking trails: Jomsom Muktinath, Damodar Kunda, The views of the Kali Gandaki River and its gaps along with the scattered ethnic settlements by the river are stunning.
For people believe in Buddhism, some of the oldest monasteries are here. Most of them were constructed in the 11th century. A short interaction with our guide provides sufficient information about their ancient traditions and history. Mani walls, chhortens, and flags of prayer make the journey an exciting and historic cultural experience.
Upper Mustang Heli tour is the visual representation of heaven on Earth, and everyone wants to visit this mesmerizing place. Still, as we know in the present time, everyone has only a handful of time with them, and the upper mustang helicopter tour cost is the best reliable and less time-consuming means of transportation to reach Mustang. Mustang helicopter tour is the perfect place if you want to get away from your hectic life and enjoy the beauty of mother nature.
Upper Mustang Helicopter Tour is one of the most adventurous and beautiful journeys that you can ever go for, as you get to explore the Upper Mustang region, which is also known as 'the land beyond the mountains.' Altogether, the journey is around 3 hrs long, as you go from Tribhuvan International Airport to Lo-Manthang, and back. The helicopter makes a stop at Jomsom for refueling purposes. During the journey, you get to enjoy the fantastic aerial views of not just Upper Mustang, but Lower Mustang region as well. The upper one is dry and full of deserts, whereas the lower one is green and full of forests. You are noticing this distinction while in the air is fantastic. You will get to spend around one hour in Lo-Manthang, which was once the capital of this kingdom known as Mustang. It was a walled city, and its remnants can still be noticed. Jomsom is a beautiful place to explore, as well.
North of Kagbeni, generally known as upper Mustang, looks similar to the Tibetan plateau with its yellow and gray rolling hills eroded by violent winds. It lies beyond the Annapurna massif and bordered on three sides by Tibet lies the ancient Kingdom of Lo, better known as Mustang. In the local language, the name Mustang refers to the barren Tibet like region at the north end of the Kali Gandaki, which is known to its inhabitants as Lo. Upper Mustang is the last of the untouched and ageless lands in the Himalaya, and here you will find Lo-Manathang, the only walled city in Nepal. Mustang is probably a Nepalese mispronunciation of the name of the capital of Lo, the city of Manthang. We provide helicopter service with a most trusted helicopter company in Nepal - Air dynasty, Mountain, Shree, Altitude Air.
Upper Mustang Heli Tour Highlights
Beautiful center for culture Lo Manthang
Pure Buddhism heritages (Tibetan)
Breath-taking views of Annapurna and Dhaulagiri Himalayan chain
The spectacular cave-like settlements in Lo-Manthang
Stunning views of Mount Annapurna Himalaya, Mount Dhaulagiri, Manaslu range and Tukuche Peaks
Upper Mustang Helicopter Tour Cost
| No. of People | Price (Per Person) |
| --- | --- |
| 5 | USD 1500 |
| 4 | USD 1700 |
| 3 | USD 2150 |
| 4 | USD 3450 |
| 1 | USD 6500(being private charter) |
Upper Mustang Helicopter Tour Itinerary
We are providing an itinerary according to the interest of every client. We have two different tours package, one from Kathmandu and another from Pokhara. Itinerary can be customized based on your request.
Kathmandu to Pokhara helicopter ride (30 minutes)
Pokhara to Jomsom (20 Minutes)
Jomsom to Mustang (30 Minutes)
Explore around Lo Mangtang (1 Hour)
Fly back to Kathmandu (1.30 hours)
Upper Mustang Helicopter Tour from Kathmandu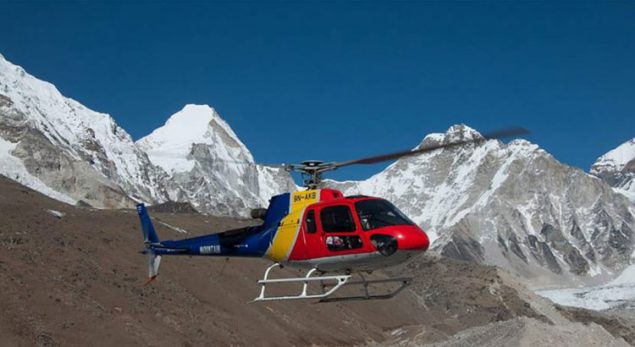 Morning Flight from Kathmandu - Refueling( Landing about 30 Minutes.)
Take off from Jomsom to Lo-Manthan, Landing up to 1 Hour in Lo-Mangthang
Take off from Lo- Mangthang and landing at Jomsom and Refueling another 15 minutes.
Take off from Jomsom Airport to Landing at Pokhara or Kathmandu.
Upper Mustang Helicopter Tour from Pokhara
Pokhara to Jomsom (20 Minutes)
Jomsom to Mustang (30 Minutes)
Explore around Lo Mangtang (1 Hour)
Fly back to Kathmandu (1.30 hours)
Trip Includes/Exclude
Helicopters are from two different companies Air Dynasty and Simrik air. So you can trust us blindly.
Important Notice
If the weight of an individual exceeds 100 kgs. Then he/she needs to purchase two seats.
The company takes a right to cancel the flight in case of an emergency or weather.
If there will be no flight due to the weather, everyone gets full refunds.
Best Time to Travel
May, June, and August are the best months for Upper Mustang Trek and Lo Manthang Helicopter Tour. The Mustang region remains dry during the monsoon season, giving us the benefit to travel sans crowd of the tourist season.
Price Starting From
USD 1500pp
We do small group or private trip as your request.
For quick information contact us at WhatsApp/Viber +977-9843724104

This trip can get redesigned and redeveloped as per your taste, for more information please e-mail us at hikingannapurna@gmail.com